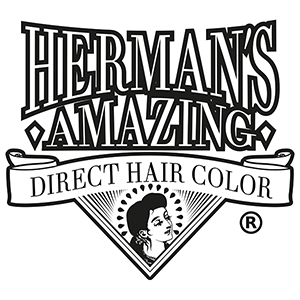 HERMAN'S AMAZING DIRECT HAIR COLOR


Herman's Amazing Vegan Semi Permanent 4 oz. Hair Dye

Herman's Professional is designed in Finland. This company wanted to make their own line of amazing direct hair colors which are 100% vegan and not tested on animals. Ethics and quality are their major keys and they always listen to their customers' wishes and styles. Herman's Professional is now manufacturing in the Netherlands. They are developing their products all the time to have the best quality. Herman's Professional's goal is to have a professional quality hair product which can be also used by hairdressers and consumer customers.
Herman's Amazing hair colors can be mixed! You can also create cute pastel colors with Blanc Blanche Toner.
100% Vegan, Not Tested on Animals
Conditioner Based, Direct Hair Color
No Ammonia
Literal Instructions Included
Developed in Finlad, Made In The Netherlands
4 oz.

Color Remains about 8-12 Washes, Stronger Pigments even 20 Washes.
Ingredients:
Aqua, Cetearyl Alchohol, Distearoylethyl Hydroxyethylmonium Methossulfate, Ceteareth-20, Methylparaben, Ethylparaben, Butylparaben, Propylparaben, Citric acid.
ALL COLORS TO CHOOSE FROM. COMES IN 4oz. BOTTLES
- Cynthia Cyclamen
- Bloody Mary
- Fiona Fire
- Ruby Red
- Patsy Purple
- Peggy Pink
- Silver Veronica White
- Sylvia Silver
- Tammy Turquoise
- Olivia Green
- Marge Blue
- Lemon Daisy
- Thelma Turquoise
- Polly Pink
- Vicky Violet
- Bella Blue
- Mathilda Granny Grey
- Gilda Granny Grey
- Rosie Gold
- Black Dahlia
- Tara Tangerine
- Hailey Hazel Brown
- Miley Milk Tea Brown
- Scarlett Rouge Red
- Stella Steel Blue
- Blanc Blanche Tone